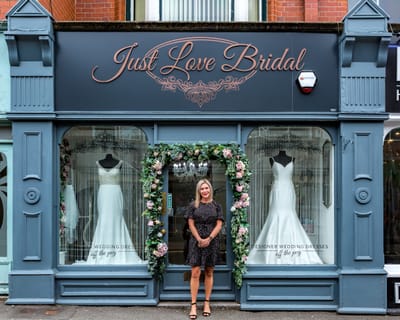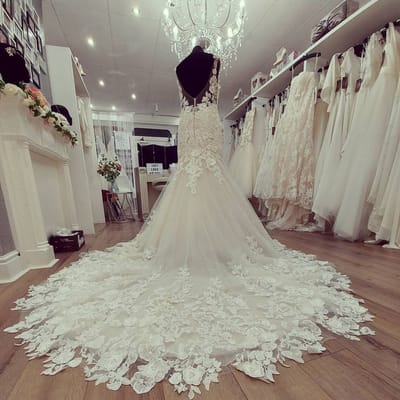 Just Love Bridal is a quaint bridal boutique based in the wonderful town of Ripley, Derbyshire.

Offering New and Ex-sample designer wedding dresses. We offer a beautiful collection of gowns 'Off the Peg' that you can take home the same day! We also offer a stunning collection of gowns which can be ordered in the size you require from size 4- 32.

We are always on the look out for new styles, new trends and unique finds at the best prices possible to offer our savvy brides-to-be.

Sourcing our 'Off the Peg' gowns from all over the UK and Europe. We offer some beauties from top designers such as Ronald Joyce, Allure Bridals, Justin Alexander, Venus Bridal, Eternity Bride, Mori-Lee, Essence of Australia, Romantica the list is endless.

All our 'Off the Peg' gowns are priced from £199 - £799

For our selected order in gowns from British Designer 'Richard Designs' prices range from £495 - £1,095

We want our brides-to-be to enjoy their visit at Just Love Bridal, we are not pushy and don't want you to feel pressured into buying a gown. We believe that the experience of buying a wedding dress should be relaxed, exciting and of course fun. After all this is for your big day and you need to have the dream dress that makes you feel amazing!

Aiming to provide the best customer service possible we like to schedule a bespoke appointment for each bride-to-be to allow time to browse through the selection of designer gowns on offer. We will help and advise you on styles and textures which suit your body shape.

When you are planning a visit to Just Love Bridal. It is preferable to wear little or no make-up at all (including fake tan) or heavy perfume.

We have regular updates every week of new stock arrivals on Facebook and Instagram.

Please give us a 'LIKE' to keep up to date with the latest stunning arrivals and discount weekends!

If you have any questions, or there is a designer gown you are looking for and we don't currently have it in stock then please give us a call or send a message on the link below, we will do our best to find one for you or something similar.

We offer bespoke bridal appointments with sole use of the boutique for you and your bridal guests. Weekly walk-in days are available too but please give us a call before hand as these days do change every week due to appointment requests. We work around you and your commitments. Evening appointments are also available.

You could be our next 'JLB BRIDE', so what are you waiting for, give us a call your DREAM dress may be here waiting.